Collin Kroeger
Vice President, Institutional Business Development
Image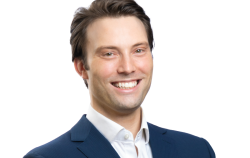 Vice President, Institutional Business Development
Undergrad
Wayne State College
BS, Finance
Exploring restaurants, book stores, and exhibits
Live music
Comedy shows
College football - Go Big Red!
Can you share a bit about your background?
I was born and raised in Schuyler, Nebraska, where my family ran the local autobody shop. Aside from working at our repair shop, I had a part-time job herding cattle at a nearby Cargill processing plant. Experiencing these manual-labor jobs early in life helped motivate me to attend college and seek out a career in the professional sector.  

While attending Wayne State College, I realized that I had a passion for economics and investing, which prompted me to take the first level of the CFA during my junior year. This led me to attend the Annual CFA Conference in Singapore prior to graduation in hopes of building a network that could lead to opportunities outside of Nebraska. I was extremely fortunate to meet Ramin Toloui, who led EM investing at PIMCO, which would ultimately lead to a position in its Trade Compliance group in Newport Beach. I later moved to PIMCO's New York office and joined the Institutional Client Servicing team.  
 
My interest in alternative investments subsequently led me to Blue Owl's Credit platform, formerly known as Owl Rock, given its status as one of the most innovative private credit firms.
Describe your role at Blue Owl. 
I'm a member of the Product Solutions Group within Institutional Business Development at Blue Owl. Our mandate covers a wide range of functions, including leading new product launches, providing analytics to address LP inquiries and support marketing campaigns, and working with our strategic partners to structure bespoke investment vehicles. The role is constantly evolving, and I love the intellectual challenge that comes with facing new problems and addressing the everchanging needs of our investors.
Since joining Blue Owl, what's the most interesting thing you've learned?
As funny as it sounds, one of the most interesting challenges during my time at Blue Owl has been learning the complexities of tax laws and working with our internal teams and external counsel to create bespoke solutions for LPs. There's a phenomenal solutions-oriented culture here that empowers us to think outside the box and be creative when addressing client needs and providing innovative solutions.
What excites you most about Blue Owl's future? 
I truly believe the sky's the limit for Blue Owl. I'm looking forward to seeing our product offerings expand and the firm to continue to grow as the premier provider of capital to the alternatives ecosystem. I believe that we will continue to be at the forefront of private markets investing and that our platform will be one of the most dynamic in the world.
What are you most proud of since you began at Blue Owl? 
The accomplishments I'm most proud of are the strategic relationships that we've established and in which I have been fortunate enough to be involved. We aim to provide best-in-class client service, and I am always extremely proud to hear from our clients that they consider our servicing to be industry-leading.
What is something outside of work that most people don't know about you and that you're proud to share?  
I'm proud that I was able to make it to Blue Owl from a rather nontraditional background. Making it to the financial industry in New York City, after coming from a rural part of the country, was a daunting challenge; so I'm proud that I was able to achieve the ambitious career goals that I set for myself when I was still in college. It's great to visit my alma mater, Wayne State College, as a professional and to share my story and help motivate current students to aim high and to achieve their dream career rather than settling for the path of least resistance.
What's something about Blue Owl that people would be surprised to learn? 
It would be surprising to learn that, despite our rapid growth and size, the culture is still extremely entrepreneurial. It's refreshing to work at a firm that is both successful and scaled but remains flexible, nimble, and forward-thinking.
What advice would you give to people beginning their careers?
Network, network, network. Putting yourself out there and meeting people who work in the industry you're targeting is the surest way to stand out from the crowd. I lost count of the number of internships and jobs I applied to online that never resulted in a single interview; but the second I started attending CFA luncheons and conferences, doors began to open. Find something you're passionate about, decide the career you want, then make the effort to meet everyone you can in that industry.
What's your favorite thing about Blue Owl's culture? 
The culture of excellence, coupled with our commitment to mutual respect, is the most special thing about Blue Owl. Too often, firms in the financial industry have high-performing but aggressive cultures. Blue Owl has managed to build a culture of excellence without sacrificing goodwill, collaboration, and respect.