Max Chou
Vice President, Direct Lending
Image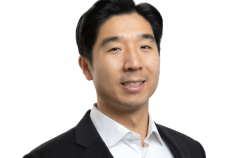 Vice President, Direct Lending
Winchester, Massachusetts
Undergrad
Brown University
AB Applied Mathematics
Graduate
University of Pennsylvania
MBA
Can you share a bit about your background?
I was born and raised in Winchester, Massachusetts, where my family stood out as one of the few Asian families in town. I studied Applied Mathematics and Economics at Brown University and went on to earn an MBA from the University of Pennsylvania. 

My professional journey began at Morgan Stanley Leveraged Finance, where I gained a valuable introduction to the credit markets. I then joined the Golden Gate Capital Credit investment team in San Francisco. In 2018, I moved to New York and joined Blue Owl's Credit platform, formerly known as Owl Rock, where I have been a member of the investment team. 

Outside of work, I have a passion for golf—which I have been enjoying since I was nine years old. I have fond memories of growing up, playing with my father. I am a big Boston Celtics fan and regularly engage in friendly basketball matches with my friends on Sunday mornings. I find great joy in humor and appreciate a well-crafted comedy show or a funny moment in real life. I've recently found myself eagerly looking forward to playing the popular word game, "Wordle," during my daily commute.
Describe your role at Blue Owl.
I am an investment team member on the Diversified Credit and Opportunistic Strategies team. I evaluate new investment opportunities, execute investments, and monitor existing investments.
What is the most interesting thing you've learned in your time here? 
Success at a large investment firm requires more than just good investment decisions. Our strong investor relations team raises capital, while our capable operational, accounting, and legal teams create scalable infrastructure and processes. Additionally, our thoughtful financing team structures our investments strategically. Most importantly, we emphasize tight collaboration among all of these teams to ensure our collective success—fostering open communication and teamwork in seeking to deliver meaningful results in the financial industry.
What excites you most about Blue Owl's future?
The growth of our firm has been nothing short of extraordinary. Witnessing the rapid evolution and expansion has been truly remarkable. As a relatively young organization, I am filled with anticipation for the continued growth and market navigation ahead.
Is there any part of Blue Owl's culture or commitment to DEI that personally resonates with you in a meaningful way? 
Our commitment to supporting various social causes. One standout moment was when anti-Asian hate crimes were on the rise during the early days of the COVID pandemic. As an Asian-American employee, along with other AAPI colleagues, we initiated discussions on how to support AAPI organizations and causes. I was thrilled to see the firm recognize the importance of our efforts and pledge a significant financial contribution to this cause. Furthermore, Blue Owl formalized its sponsorship program—extending support to other impactful causes such as our Community Loan Program, a small-business loan program that aided those affected most by the pandemic. Our employees also actively engage in philanthropic endeavors outside of work and encourage others to do so, as well.
What's something about Blue Owl that people would be surprised to learn? 
One aspect of Blue Owl that may come as a surprise is our ability to maintain a close-knit and collegial "small-firm" atmosphere despite our growth. Although we have expanded significantly, we still cultivate strong relationships with other employees both inside and outside the office. While there are larger firm-wide events, such as the Blue Owl Olympics and family picnics, to facilitate cross-team interactions, what truly distinguishes the culture is the prevalence of organic social gatherings and activities among team members throughout the entire organization. From team dinners and weekend trips to engaging in group outings at fitness centers and participating in recreational sports teams like soccer and basketball, we actively invest time outside the office to foster connections and enjoy each other's company.
What advice would you give to people beginning their careers? 
The importance of humility and the value of relationships. When starting your career, you are entering a new world where you are free to make your own choices and explore various opportunities. Be open minded, don't be overly opinionated, and be ready to explore different opportunities. While a lot of things are out of your control, you can control how hard you work and your perspective. Your education in the real world is about to begin. Take in these experiences and learning opportunities. You will make mistakes, and you can learn from those. Relationships matter a lot for your career progression, so be open to meeting and talking to new people. You never know who will lend you a helping hand down the road.
What is your favorite thing about Blue Owl's culture? 
My favorite aspect of Blue Owl's culture is the remarkable sense of collaboration and camaraderie that permeates the entire organization. Despite our substantial size, the firm has successfully preserved a small-firm atmosphere, where individuals across different business units genuinely enjoy working together to tackle challenges and solve problems. The willingness to collaborate and the genuine pleasure that we derive from being in each other's company is palpable, both inside and outside the office. This collective spirit creates a positive and inspiring work environment that fosters innovation, mutual support, and shared success.
What sets Blue Owl apart? 
Our employees' ambitious and excellence-driven mindset. Working with colleagues who are committed to the firm's growth and success is highly motivating. There is a collective drive to succeed and a culture of pushing each other to reach new heights. At Blue Owl, our shared ambition creates an environment of innovation, collaboration, and mutual support.
What do you like most about working at Blue Owl? 
Working with other employees who are ambitious and striving for excellence. It is motivating to work with others who are trying to learn and helping the firm grow. This ambition and pushing each other to be better are exciting.
Any other information that you'd like to share regarding your life at Blue Owl, your life outside of Blue Owl, or a combination of the two?
I have worked at Blue Owl since 2018, and many of the employees I started with are starting to grow their families. It is exciting to see other members of the team grow, both professionally and personally.