Image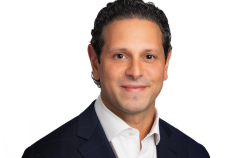 Marc Zahr is a Co-President of Blue Owl Capital Inc., a member of the firm's Executive Committee, and a member of the firm's board of directors. Marc is also the Head of the Real Estate platform, where he manages and oversees the Real Estate platform's investment activities, including sourcing, underwriting, and negotiating all acquisitions. Marc also serves as the Chairman of the Board of Trustees of Blue Owl Real Estate Net Lease Trust, a private placement REIT, and serves on the Board of Trustees of Store Capital, a private REIT. Previously, Marc founded Oak Street, the predecessor firm to Blue Owl's Real Estate platform.
Prior to founding Oak Street, Marc served as Vice President at American Realty Capital where he was responsible for the analytics and acquisition activities within the company's real estate portfolios, a Fixed Income Trader at TM Associates, and an Associate at Merrill Lynch. Marc was honored as one of Crain's Chicago Business's 40 Under 40 for 2018.  
Marc received a BA in Communications from the University of Dayton.
Back to our team